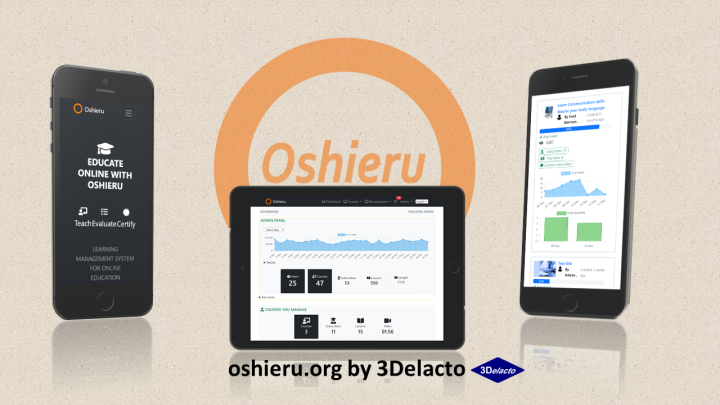 ◯shieru – Learning Management System
We are proud to announce that our latest product for online education is live at oshieru.org
All in one solution for online education, evaluation and certification. This platform can help educators to create and publish video on demand paid or free courses and reach their audience. The workspace functionality allows businesses to educate and evaluate their employees or to build and manage full educational programs for students – Oshieru provides most comprehensive tools for online education for companies and educational institutions.
Platform to TEACH, EVALUATE AND CERTIFY. Oshieru can make your educational content available on any multimedia device capable of presenting a web content, with Intelligent online examination system and possibility to create and issue certificates upon completion of the course or successful completion of the exams.
Creating and serving online courses is becoming more and more important for educators and anyone who is earning money by selling their knowledge and skills. Of course, when comes to the online teaching, the proven best way is teaching trough a video content. Some people learn best by reading textbooks, but most of the people tend to understand and remember by receiving the information by visual means.
Here comes so wide usage of the online video content. Now it is rare to find a website or web application that does not implement or use any kind of video material. For the sake of this, Oshieru offers secure sharing of your educational video content with your students.
You can always create only textual content, implement images, schemas or whole documents within your lessons on our platform, but we encourage you to sublime your knowledge into a video content. If you decided to create your video course – go ahead with Oshieru, its free!